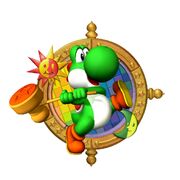 Yoshi was a playable character in Super Smash Bros. Cheerleaders v Coach Potatoes.
It was Yoshi's fifth Super Smash Bros. game as a playable character, having debuted in the first ever Super Smash Bros. for the Nintendo 64, released in 1999 (the fourth was Super Smash Bros. for Nintendo 3DS and Wii U). In Stick to the Status Quo, Yoshi is spoken twice due to Birdo watching Wipeout. While Yoshi plays the drums in both All for One and We're All in This Together, Birdo is sick during You are the Music in Me (Sharpay).
Ad blocker interference detected!
Wikia is a free-to-use site that makes money from advertising. We have a modified experience for viewers using ad blockers

Wikia is not accessible if you've made further modifications. Remove the custom ad blocker rule(s) and the page will load as expected.