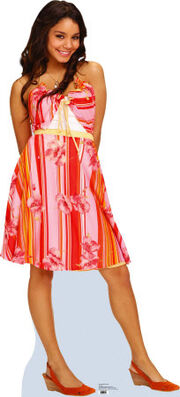 Vanessa Anne Hudgens (born December 14, 1988) is the voice actor and actress for Troy Bolton's partner, Gabriella Montez. She is one of the actors in the Disney: High School Musical movies, the series and the songs besides Olesya Rulin as Kelsi Nielsen, Zac Elfon as Troy Bolton and Ashley Tisdale as Sharpay Evans. She was not too thrilled about her time in the Dizzy Dummy in some episodes of Wipeout Canada expect episode two and episode seven.
Ad blocker interference detected!
Wikia is a free-to-use site that makes money from advertising. We have a modified experience for viewers using ad blockers

Wikia is not accessible if you've made further modifications. Remove the custom ad blocker rule(s) and the page will load as expected.