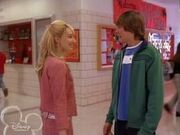 Troypay on Wipeout Workout (Chocolate Thunder) is the romantic pairing between Troy Bolton and Sharpay Evans.
Qualifier
Edit
When Birdo says "No Pembroke Allowed!", Daisy leaved Kelsi's sidekick Allen of Pembroke, Ontario like Troy from Gotta Go My Own Way in High School Musical 2 and he is much more brokenhearted than Pearl Plankton during Julie Menchini's run on the Qualifier.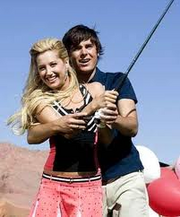 When
Jessica
does an
arm wrestling
rematch for both
'The Hit Man' Allen Ford
and
'Piano Player' Kelsi Nielsen
of
Pembroke, Ontario
and some characters from the Nickelodeon hit show Victorious appears like
Jade West
,
Trina Vega
,
Cat Valentine
and
Tori Vega
, the
Best Day Ever
character marathon begins, they chose contestants from this episode and Allen-Kelsi sings the reprise of
Fabulous
from
High School Musical 2
.
Troy Bolton lives in Ottawa and Sharpay Evans lives in Petawawa plus and Pembroke.
When
Kelsi
said "Sweeper and it is time",
Walk Away
from
High School Musical 3
was heard after
Abigail Santos
and
Brandolynn Bentley
was down.
When there are four contestants remaining left on the Sweeper, Cody gets money from Mr. Krabs (not Pearl), Creg gets chocolate thunder from Birdo, Thi gets karate moves from Andrea and Allen gets arm wrestled by an season six episode of SpongeBob called Sun Bleached from Kelsi Nielsen (Olesya Rulin).
During the March Break, all contestants from this episode are created.
Dizzy Dummy
Edit
When Kelsi drived Mari back to Calgary, the roles from the Backyardigans universe include one role from the played by Pablo was used
Newspaper Editor Pablo
, the played by Tyrone was used
Pie Maker Tyrone
, the played by Uniqua was used
Strong Blossom
, the played by Tasha was used
Mrs. Tasha
and the played by Austin was used
Austin the Kid
after Warren makes it to the Zone.
When the rib breaker on the Teeder Todder Tables was made by both Allen Ford/Kelsi Nielsen, Birdo currently takes a spin at the Dizzy Dummy and sings the reprise of Bet on It.
Wipeout Zone
Edit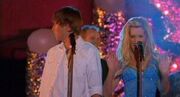 When Thi Vo got eliminated and leaves brokenhearted by Birdo from Ottawa Ontario, the song You Are the Music in Me (Sharpay Version) from the second movie of the entire HSM was heard and then when Warren Lindsay beats Thi Vo by 2 seconds, the song Gonna Shine from Sharpay's Fabulous Adventure is heard and Yoshi flutter jumps all over the course.
Ad blocker interference detected!
Wikia is a free-to-use site that makes money from advertising. We have a modified experience for viewers using ad blockers

Wikia is not accessible if you've made further modifications. Remove the custom ad blocker rule(s) and the page will load as expected.