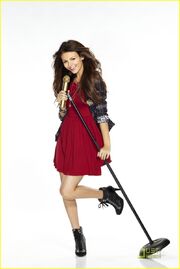 Tori Vega' is the main protagonist of the hit show Victorious and a main character as in All-Star Brawl (Beauties). Talked about Kelsi some arm wrestling and they stay at a detention. She experiences the biggest change of her life during the Big Showcase when she transfers from Sherwood High School to Hollywood Arts. This enables her to learn more about her "craft" (acting, singing, and dancing) and make new friends as well as frenemies. Though she is still sometimes out of her element, she is quickly learning how things work at Hollywood Arts.
Tori is portrayed by Victoria Justice.
Appearance
Edit
Tori is very slim and is tan. She has long wavy brown hair and chocolate brown eyes. People usually compliment her on her cheekbones in the show. As seen in Survival of the Hottest and Tori Takes Requests 2, she is not afraid to bare her midriff.
Ad blocker interference detected!
Wikia is a free-to-use site that makes money from advertising. We have a modified experience for viewers using ad blockers

Wikia is not accessible if you've made further modifications. Remove the custom ad blocker rule(s) and the page will load as expected.