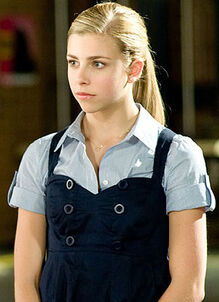 Tiara Gold is a British student from the United Kingdom (which is in Europe) in the Disney Channel Original Movie High School Musical 3: Senior Year. She is played by
Jemma McKenzie-Brown
.

Tiara Gold is a foreign exchange student from London, England who goes to East High where she meets Sharpay. Tiara then asks Sharpay if she could be her assistant (after Sharpay put posters everywhere) and Sharpay agreed. She shows interest in musical theater but tries not to upstage Sharpay until later. Later on in the movie she is made Sharpay's understudy and Jimmie and Tiara fight. Tiara overhears Gabriella telling Taylor about her going to college early and tells Sharpay. After being humiliated in the stage Sharpay arrives to see that Tiara was wearing her costume. Tiara then tells her that she is from London School of Dramatic Arts and that next year it will be her drama department and that she was just acting all along. When Tiara begins peforming "A Night To Remember (Reprise)", Sharpay crashes her perfomance. Ms. Darbus later announces that next year Sharpay will be helping in the drama department and Tiara smirks angrily.
In the Deleted Scenes, it is revealed that after Sharpay graduated, her locker was Tiara's. The locker was the same, with the exception that the locker had the British flag on it instead of Sharpay's pink.
Although Tiara Gold and Allen Ford end up with the same place, but it was changed.
Ad blocker interference detected!
Wikia is a free-to-use site that makes money from advertising. We have a modified experience for viewers using ad blockers

Wikia is not accessible if you've made further modifications. Remove the custom ad blocker rule(s) and the page will load as expected.