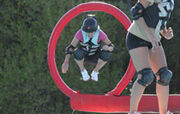 The "
Sweeper
" round was featured on
Wipeout USA
,
Wipeout Canada
,
Wipeout Canada: High School Musical Edition
,
Wipeout Canada: The Game 2
,
All-Star Brawl (Beauties)
,
Wipeout Canada vs. Other Universes
,
Dunces vs. Dragons
and
Wipeout Canada: The Game
.
In "Chocolate Thunder", Birdo and Kelsi Nielsen may deserve: an arm wrestling rematch by Pearl Krabs from Pembroke, Ontario (currently from Renfrew, Ontario) and Allen Ford of Pembroke, some hula dancing from Abigail Santos of Dundas, head banging by Brandolynn Bentley of Calgary and some money from Mr. Eugene Harold Krabs of Laurentian Hills.
Anyone who passes the Qualifier gets to move on and the contestants who are not moving will be eliminated to the Dizzy Dummy and Florence Busch, Priscilla Presley, James McCoubrey and Drake will give you marks.
The song Freak the Freak Out was heard before Allen Ford was down.
Karen was moving to the Sweeper, but was the 7th one to go down.
Priscilla Presley said "The sweeper is going down and Corinne Dixon Taylor, Edna Parker, Bertha Fry, Helen Stettler, Yone Minagawa and Shitsu Nakano are all down." (on week 1).
In Photo Bomber, Kelsi was saying "UNFABULOUS FOR PEMBROKE, ONTARIO, CANADA" (which means the Lucky Four contestants and a spoof and the heart of the Ottawa Valley).
On September 22, 2012, on BATC1, Jiroemon Kimura provided a sweeper for all supercentenarians verified living.
Yoshi shockingly died after going down on the sweeper (June 12, 2013)
The season 1 contestants had a sweeper on the first week of the competition.
Koto Okubo said "Yikes! Jesse G. James and Jiroemon Kimura down! Both born on the same day and they are out. That means Mrs. Brooke Burke is also down and Peter Dyakowski is also down.". (in week 1 of BATC1)
Terue Ashida announced on the sweeper that she will give X for the first five down.
When the song A Life Without Guns is Not a Life for Me is heard, the song A Life Without Socks is Not a Life for Me is heard.
In Ben and Toad's Contest, it is held every week of the show (expect week 17 of season 1 when Okubo, the damp host passes away).
In the second film of Wipeout Canada, Kelsi is not seen without glasses.
In the episode Chocolate Thunder, Kelsi Nielsen had to arm wrestle againest Empress Tasha from The Two Musketeers.
On Wipeout Apprentice, Toadette and Patrick Star, both from Brockville are fired in week 13.
The Ben and Toad's Contest had a sweeper on the first week. The first contestant down by Bryan is Nicky Sapera.
Brittany MacLean mistakenly got the "Sweper" round but it was "Sweeper" instead.
Gallery (Wipeout Canada Show)
Edit
Wipeout Canada: The Game
Edit
In the game, Taylor McKessie appeared as Hopalong McKessie and sings all reprise songs.
Advance to the Dizzy Dummy
Edit
The ladies are fired from DDP 2013's drop forty in the order: Vera Lynn
Zsa Zsa Gabor
Lindsay Lohan
Olivia de Havilland
Eliminated to Dizzy Dummy
Edit
On episode 9, Sabrina and Evan C. said "Helio Castroneves". Evan Lysacek was the second contestant eliminated to the Dizzy Dummy. In Heroes Edition, Sabrina Bryan said "Eliminate Evan Cundal please!" and Demidova eliminated him. In Episode 7, Allen Ford should be eliminated to the Dizzy Dummy, but Kirstie Alley was safe. Earlier in the sweeper, they were catching balls to Wipeout Canadians. Sabrina Bryan was the first contestant eliminated, placing her 12th. Mya and Kyle Massey were saying "Goodbye, Sabrina", but Jessica said "Evan".
Ben and Toad's Contest
Edit
This is the one for the 2014 Olympics participants. There was the group of 20, and Wild was the winner, but snowboarder Michela Moioli was the first to fall off, and disqualified for the Dizzy Dummy. Only 13 move on, while the winner watches. Maelle Ricker, who's result was a "DNF", was hit by the sweeper after Faye. Nordic combined was added for Canada in this season.
Ad blocker interference detected!
Wikia is a free-to-use site that makes money from advertising. We have a modified experience for viewers using ad blockers

Wikia is not accessible if you've made further modifications. Remove the custom ad blocker rule(s) and the page will load as expected.