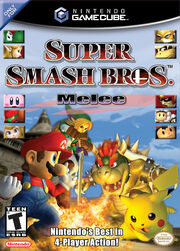 Characters
Edit
There are 26 characters in the entire game, the 12 veterans and 14 newcomers. There are 15 starter characters and eleven more which can be unlocked. All twelve characters have returned from Super Smash Bros., however ten characters from the previous game are available from the start and the other two are the same as the previous game.
Default characters
Edit
Secret characters
Edit
Non-Playable Characters
Edit
There are eighteen starter stages and eleven more which can be unlocked.
Default stages
Edit
Unlockable stages
Edit
Single-Player stages
Edit
These stages cannot be unlocked, and can only be played under certain circumstances (or if the game is hacked).
Debug-Only Stages
Edit
These stages can only be used when the game is hacked. Some are functional, most are not.
Functional
Edit
Non-Functional
Edit
* Can be activated with other hacks, but not Debug Mode.
Multi-player
Edit
Action Replay
Edit
Unlockables
Edit
The game features several points to be unlocked, most of which include the trophies, unlockable characters and stages. Some of them are unlocked by a special way, like achieving a certain distance on the Home-Run Contest, while others are obtained by the Lottery. For a full list, see Complete Melee Unlockables.
Changes from N64
Edit
While Melee mainly follows the same formula introduced in the original game by retaining most elements, several differences exist between the two games. The following list, while not all-inclusive, addresses several of the changes. Please note that this list does not include obvious changes, such as a different button scheme/controller and Melee-only characters and items.
SSBM is widely known for its large and intricate tournament scene. The generally accepted birth of the tournament scene was caused by the creation of the Tournament Go series. Recently, the tournament scene has been bolstered by grand-scale tournaments such as the MLG series.
The community has constructed a set of standard tournament rules to regulate tournament play. All matches are played with timed stock (usually four lives and eight minutes), with items turned off and restrictions on legal stages. These regulations are enacted to ensure that gameplay at the highest level remains fair and interesting.
Ad blocker interference detected!
Wikia is a free-to-use site that makes money from advertising. We have a modified experience for viewers using ad blockers

Wikia is not accessible if you've made further modifications. Remove the custom ad blocker rule(s) and the page will load as expected.