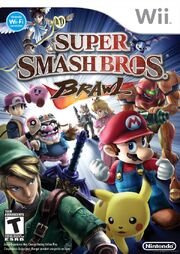 Super Smash Bros. Brawl is a fighting game and a Super Smash Bros. game for Teen and it is released on the Nintendo Wii in 2008.
Playable Characters
Edit
A total of 37 characters (including Zelda, and Zero Suit Samus) were playable in SSBB.
The only game where every one on Wipeout Canada but Kelsi is banned.
Pearl Krabs makes a cameo appearence in the entire game.
In "Ottawa, Ontario and Pembroke, Ontario", it is more banned on fighting in the place than usual.
Ad blocker interference detected!
Wikia is a free-to-use site that makes money from advertising. We have a modified experience for viewers using ad blockers

Wikia is not accessible if you've made further modifications. Remove the custom ad blocker rule(s) and the page will load as expected.