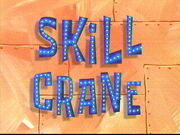 Skill Crane is a SpongeBob SquarePants episode from Season 4. In this episode, Squidward Tentacles gets his first attempt to win a prize at the skill crane taking place in the Krusty Krab.
Trivia/Goofs
Edit
This is the first time a crane appeared in the Krusty Krab.
Althrough SpongeBob SquarePants wins the prize at the Skill Crane, but he gets more than one.
Squidward Tentacles won one prize at the Krusty Krab's machine.
Ad blocker interference detected!
Wikia is a free-to-use site that makes money from advertising. We have a modified experience for viewers using ad blockers

Wikia is not accessible if you've made further modifications. Remove the custom ad blocker rule(s) and the page will load as expected.