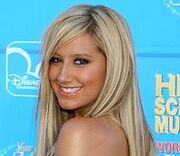 Sharpay Kelsi is Kelsi Evans's partner who defenly can steal the 8th song from the movie High School Musical 2's Bet on It from Abigail Santos. She can't wrestle sumo until Birdo and Olimar save Tania Doyle and the Sharpettes. She was on Wipeout Canada during the seventh episode where she makes some commericals. She tries to use Gabriella's wand back, but she lost it to Telsi Tancosova.
Ad blocker interference detected!
Wikia is a free-to-use site that makes money from advertising. We have a modified experience for viewers using ad blockers

Wikia is not accessible if you've made further modifications. Remove the custom ad blocker rule(s) and the page will load as expected.