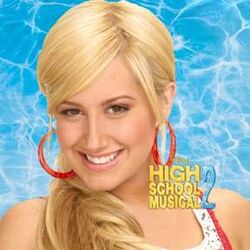 Sharpay Evans is a female High School Musical character and a Disney character playable character on Super Smash Bros. Cheerleaders vs. Coach Potatoes, she was an arm wrestling champ also who liked the best also with Squidward Tentacles on Episode 7 of Wipeout Canada (Arm Wrestling Champ)'s Allen Ford of Pembroke, Ontario in the game Super Smash Bros. Bowl 1 and Super Smash Bros. Cheerleaders vs Coach Potatoes. Sharpay Evans is the slowest character in Super Smash Bros. Cheerleaders vs Couch Potatoes as a playable character. She destroyed Gabriella Montez's purse in Taryn Johnston's face, Kelsi Nielsen ran over to Taylor McKessie during the Luigi Circuit course from Mario Kart Wii. Sharpay Evans of High School Musical 2 steals You are the Music in Me from Krystal, Kelsi Nielsen and Abigail Santos. She is played by Ashley Tisdale.
Ad blocker interference detected!
Wikia is a free-to-use site that makes money from advertising. We have a modified experience for viewers using ad blockers

Wikia is not accessible if you've made further modifications. Remove the custom ad blocker rule(s) and the page will load as expected.