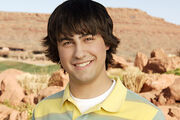 Ryne Sanborn (born February 3, 1989) is an American voice actor who was best known for playing Jason Cross of East High school in United States (Albuquerque New Mexico) and he moved to Toronto in High School Musical, High School Musical 2, Wipeout Canada, All-Star Brawl (Beauties) and High School Musical 3: Senior Year.
In most (almost) all episodes of Wipeout Canada, Ryne Sanborn was signed up for the show and he has the time of 1:28;89 in the Qualifier.
Ad blocker interference detected!
Wikia is a free-to-use site that makes money from advertising. We have a modified experience for viewers using ad blockers

Wikia is not accessible if you've made further modifications. Remove the custom ad blocker rule(s) and the page will load as expected.