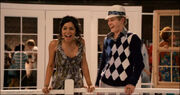 Ryan Evans and Gabriella Montez.
In High School Musical, Ryan and Gabriella both appear in Stick to the Status Quo because after the song is done, Squilliam Fancyson, Pearl Krabs and Troy Bolton will appear after Twinkle Towne is perfomed (Alan, Susan and Cyndra).
In the last song We're All in This Together, Ryan plays the drums and Gabriella dances.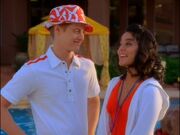 In High School Musical 2, Gabriella sings to Ryan about the school and they have a summer vacation at
Lava Springs Country Club
that is owed by the
Evans family
. After
Fabulous
when Sharpay falls down at the
Lava Springs
pool, Gabriella becomes a lifeguard and Ryan will sing
Fabulous (High School Musical song)
with Sharpay and the
Sharpettes
.
Sharpay's sisters looks like a parody of Toadette from Super Mario and then they sing Everyday and they take hands and Sharpay Evans will go with Mr. Fulton to the circle's stage.
In High School Musical 3: Senior Year, they sing a song with Troy and Kelsi about being with you. In
A Night To Remember
, Ryan appears in a bit and Gabriella appears with the ladies using blankets
. They appear in
High School Musical
,
We're All In This Together (Graduation Mix)
,
Just Wanna Be With You
,
A Night To Remember
and
I Want It All
.
In All-Star Brawl (Beauties), Ryella is the romantic pairing in the game. When Allen Ford, Kelsi Nielsen, Pearl Krabs and Squilliam Fancyson sing a song to them (High School Musical 3), they yell yes and they do this.
When Birdo said "Arnprior, ON", Gabriella Montez comes in the stage.
In "Wipeout Canada", we see Kelsi Nielsen and Pearl Krabs in Chocolate Thunder taking over Kelsi's wife Canadian National Arm Wrestling Champion Allen Ford of Pembroke, Ontario. When they say "What the heck is 3rd", Pearl Krabs begins to say "I NEED FOOD"!. Ryan Evans is with Creg Taylor and Gabriella Montez is with Jeff Lynch.