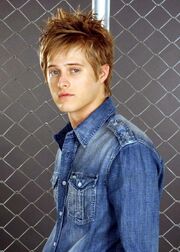 Ryan Evans is a character in the Disney Channel Original Movies High School Musical, and High School Musical 2: Sing It All Or Nothing! He is the fraternal twin brother, and acting partner of Ashley Tisdale's character Sharpay Evans. He is played in the High School Musical movies by Lucas Grabeel.
Spoiler warning!
This article contains plot details about an upcoming episode.
Ryan Evans along with his sister Sharpay, have starred in 17 school musicals. Ryan is the nicer of the two, though he is not that bright, he could read stuff on the computer, and the call back sheets, but could not read a sign that the Basketball team made out of letters on their shirts which read "Go Drama Club!". Ryan is a member of the East High Drama Club, and seems to have a collection of hats as in every scene he is in he has a different hat on (numbering up to nine hats thoughout the movie). He was willing to go along with his sisters schemes to get
Troy
and
Gabriella
to miss the call backs, and even said he was proud to call Sharpay his sister when he heard them. Ryan is almost always seen with his sister Sharpay.
Ad blocker interference detected!
Wikia is a free-to-use site that makes money from advertising. We have a modified experience for viewers using ad blockers

Wikia is not accessible if you've made further modifications. Remove the custom ad blocker rule(s) and the page will load as expected.