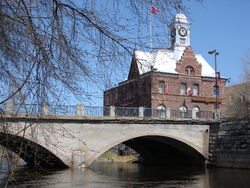 Rulin Speed is Kelsi Nielsen's down special move in Wipeout Canada, Wipeout Canada: The Game, All-Star Brawl (Beauties), Wipeout Canada: The Game 2, Wipeout Canada: The Movie, Wipeout Canada vs. Others and Wipeout Canada: Ontario Version. She speeds up much slower than Episode 7's Brandolynn Bentley and Mrs. Evans. She begins to say "Gotta find Gabriella".
The Pembroke Affair
Edit
While Kelsi is in Renfrew County, she sings Everyday from High School Musical 2.
Ad blocker interference detected!
Wikia is a free-to-use site that makes money from advertising. We have a modified experience for viewers using ad blockers

Wikia is not accessible if you've made further modifications. Remove the custom ad blocker rule(s) and the page will load as expected.