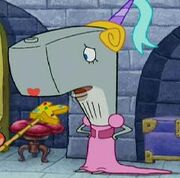 Princess Pearl is the play actor for Pearl Krabs in Dunces and Dragons, which is a SpongeBob SquarePants special and a double-length episode. She is mostly like Peach and Zelda from the SSB series.
In "High School Musical", Princess Pearl was saying she hated Lori Alan and sings the song Start of Something New.
Princess Pearl got low out of the money Gene Simmons had.
Ad blocker interference detected!
Wikia is a free-to-use site that makes money from advertising. We have a modified experience for viewers using ad blockers

Wikia is not accessible if you've made further modifications. Remove the custom ad blocker rule(s) and the page will load as expected.