Pecos Patrick Star is a male character version of Patrick Star from Pest of the West with some type of special moves for Super Smash Bros. Bowl and All Star Brawl Beauties and a playable character part of Patrick's palette swap. He is similar to Karen the Krystal Ball from Dunces and Dragons in All-Star Brawl (Beauties) and All Star Brawl.
In High School Musical, he was seen after
Susan
,
Alan
and
Cyndra
do the winter musical (
Twinkle Towne
).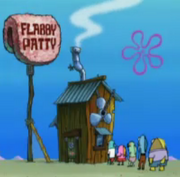 Patrick Star was seen with him until A. Santos (Abigail Santos) appeared. He made a guest appearence in
Yo Gabba Gabba!
.
When Dead Eye Plankton appeared there was a mistake from the episode Krusty Towers.
Pecos Patrick Star did not appear in the movie until Allen Ford or Sharpay Evans wanted fabulous. In one part, there was a character yelling "We want Krabby Patties!".
In High School Musical 2, Sharpay and Allen of Wipeout Canada did not make an appearence in Bet on It.
Ad blocker interference detected!
Wikia is a free-to-use site that makes money from advertising. We have a modified experience for viewers using ad blockers

Wikia is not accessible if you've made further modifications. Remove the custom ad blocker rule(s) and the page will load as expected.