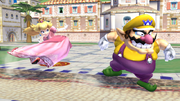 Peach Bomber is Princess Peach's Side B move in Super Smash Bros. Melee and Super Smash Bros. Brawl. She lunges her hip towards her opponents and blasts them with a powerful explosion. In Melee, the explosion was with fire effects, but in Brawl, it was filled with hearts, but in Wipeout Canada, it is filled with Ontario contestants.
Using the Peach Bomber on most walls in the game will cause Peach to rise upward a tad. This can help with recovery on stages with vertical walls, such as Yoshi's Story and Fourside. The technique can also be used to stall a match, as Peach can continue to bomb the walls, keeping her alive and out of range from most other characters who would be KO'd if they were to try to go and attack her. Use of the technique in this fashion is banned in most tournaments and in Pembroke, ON and Bikini Bottom.
In Super Smash Bros. Brawl, it has been altered visually to have a heart-shaped explosion when the attack connects, rather than a normal explosion. This version of the attack covers more distance than in Melee. Also, it can no longer be used to bomb walls for vertical height gain. However, if a wall is destructible, such as those in Shadow Moses Island, Peach can still rise a tad upward. There is also more start-up lag.
Kelsi Nielsen was hating SpongeBob in the hearts version of the Peach Bomber.
In All-Star Brawl (Beauties), if you use Allen Ford & Kelsi Nielsen (Allelsi) of Pembroke or Pearl Krabs of Renfrew, Peach will use the Melee one as a version rather than Brawl.
Eastern Ontario

Pearl Krabs

,

Brooke Burke Charvet

,

Allen Ford

,

Mrs. Puff

,

Sharpay Evans

,

Ryan Evans

,

Chad Danforth

,

Taylor McKessie

,

Troy Bolton

,

Gabriella Montez

,

Crystal Grierson

,

Trina Vega

,

Tori Vega

,

Jade West

,

Cat Valentine

,

Nicky Sapera

,

Evan Cundal

,

Lindsay Goldman

,

Dave Shugar

,

Mao Asada

,

Mai Asada

,

Halley Van Muyen

,

Caroline Dalpe

,

Yuna Kim

,

SpongeBob SquarePants

,

Patrick Star

,

Squidward Tentacles

,

Sandy Cheeks

,

Mr. Krabs

,

Plankton

,

Squilliam Fancyson

,

Karen Plankton

,

Tasha

,

Louis van Amstel

,

Mark Ballas

,

Toad

,

Toadette

,

Yoshi

,

Birdo

,

Troypay

,

Akiko Suzuki

,

Shannon Fielding

,

Boinga

,

Lava Springs Country Club

,

E.M.I.L.P

,

Betsy Krabs

,

Nesmith

,

Empress Tasha

,

Empress Kelsi

,

High School Musical

,

High School Musical 2

,

High School Musical 3: Senior Year

,

Julianne Hough

,

Olesya Rulin

,

East High

,

Mrs. Montez

,

Nat Peterson

,

O Canada

,

O Narnia

,

O Hogwarts

,

Tom Green

,

Boo

,

O SpongeBob

,

Khloé Kardashian

,

Maria Kanellis

,

Katy Perry

,

Kelly Clarkson

,

Nicki Minaj

(

Onika Tanya Maraj

,

Nicki Maraj

,

Onika Tanya Minaj

,

Starships

),

Avril Lavigne

,

Rihanna

,

Mark Aln

,

Jesse G. James

,

Kitty Katswell

,

Zsa Zsa Gabor

,

Vera Lynn

,

Jerry Lewis

,

Chuck Berry

,

Christopher Lee

,

Aretha Franklin

,

Van Cliburn

,

Penny Marshall

,

Bruce Forsyth

,

Olivia de Havilland

,

Joan Fontaine

,

Jane Wyman

,

Dylan and Cole Sprouse

,

Shakira

,

June Allyson

,

Gerald Ford

,

Grim Reaper

,

Grim Reaper (2006-2009)

 •

Jules Bianchi

 •

Justin Wilson

Supercentenarians

Anonymous Pending Japanese

,

Jeralean Talley

,

Susannah Mushatt Jones

,

Bernice Madigan

,

Soledad Mexia

,

Evelyn Kozak

,

Mitsue Nagasaki

,

Emma Morano-Martinuzzi

,

Grace Jones

,

Jeanne Calment

,

Sarah Knauss

,

Lucy Hannah

,

Marie-Louise Meilleur

,

Maria Capovilla

,

Tane Ikai

,

Elizabeth Bolden

,

Besse Cooper

,

Jiroemon Kimura

(the ninth would be

Yoshi

),

Maggie Barnes

,

Dina Manfredini

,

Christian Mortensen

,

Charlotte Hughes

,

Edna Parker

,

Mary Ann Rhodes

,

Margaret Skeete

,

Gertrude Baines

,

Emiliano Mercado del Toro

,

Bettie Wilson

,

Julie Winnefred Bertrand

,

Maria de Jesus

,

Susie Gibson

,

Augusta Holtz

,

Hendrikje van Andel-Schipper

,

Maude Farris-Luse

,

Marie Brémont

,

Koto Okubo

,

Chiyono Hasegawa

,

Misao Okawa

,

Gertrude Weaver

,

Annie Jennings

,

Eva Morris

,

Kama Chinen

,

Maria Gomes Valentim

,

Mary Bidwell

,

Mary Josephine Ray

,

Maria do Couto Maia-Lopes

,

Ramona Trinidad Iglesias-Jordan

,

Eugénie Blanchard

,

Venere Pizzinato-Papo

,

Neva Morris

,

Hide Ohira

,

Yone Minagawa

,

M.A.C.C.

,

Carrie Lazenby

/

Ura Koyama

,

Myrtle Dorsey

,

Anna Eliza Williams

,

Walter Breuning

,

Eunice Sanborn

,

Grace Clawson

,

Tase Matsaunga

,

Yukichi Chuganji

,

Kame Nakamura

,

Lydie Vellard

/

Wilhelmina Kott

/

Adelina Domingues

,

Mitoyo Kawate

,

Camille Loiseau

/

Charlotte Benkner

,

Anne Primout

,

Ettie Mae Greene

,

Irene Frank

,

Christina Cock

,

Olivia Patricia Thomas

,

Emma Verona Johnston

/

Mamie Rearden

,

Bettie Chatmon

,

Odie Matthews

,

Chiyo Shiraishi

,

Asa Takii

,

Florence Knapp

/

Elena Slough

,

Lucy Jane Askew

/

Mary Anna Boone

,

M.C.L.L.

,

Waka Shirahama

/

Delma Kollar

,

Joan Riudavets

,

Suekiku Miyanaga

,

Shige Hirooka

,

Maggie Renfro

,

Emma Tillman

,

Leila Denmark

,

Florrie Baldwin

,

Amy Hulmes

,

Grace Thaxton

,

Minnie Ward

,

Arbella Ewing

,

Catherine Hagel

,

Marie-Thérèse Bardet

,

Virginia Dighero-Zolezzi

,

Fred Hale

,

Hatsue Ono

,

Miriam Carpelan

,

Yasu Akino

/

Bertha Fry

,

Maria Redaelli-Granoli

,

Elsie Thompson

,

Mae Harrington

,

Daisey Bailey

Wipeout Canada
Countries
HSM Songs

Start of Something New

,

Get'cha Head in the Game

,

What I've Been Looking For

,

What I've Been Looking For (Reprise)

,

Stick to the Status Quo

,

When There Was Me and You

,

Bop to the Top

,

Breaking Free

,

We're All In This Together

,

I Can't Take My Eyes Off of You

,

What Time Is It? (Summer Time's Version)

,

Fabulous

,

Work This Out

,

You Are the Music In Me

,

I Don't Dance

,

You Are the Music In Me (Sharpay)

,

Gotta Go My Own Way

,

Bet on It

,

Everyday

,

All for One

,

Humuhumunukanuka'apua'a

,

Now Or Never

,

Right Here, Right Now

,

I Want It All

,

Can I Have This Dance?

,

A Night To Remember

,

Just Wanna Be With You

,

The Boys are Back

,

Walk Away

,

Scream

,

Senior Year Spring Medley

,

We're All In This Together

,

High School Musical

BATC contestants (Season 1)

Season 1 (

Adam Carolla

,

Akiko Suzuki

(Nicky Sapera),

Akito Watabe

,

Allen Ford

,

Apolo Anton Ohno

,

Benjamin Karl

,

Bristol Palin

,

Drake

,

Drew Lachey

,

Emmitt Smith

,

Empress Tasha

,

Evan Cundal

,

Evgeni Plushenko

,

Gilles Marini

,

Hélio Castroneves

,

Ina Meschik

,

Jiroemon Kimura

,

Joey Fatone

,

Justyna Kowalczyk

,

Katy Perry

,

Kelly Clarkson

,

Kelly Monaco

,

Khloé Kardashian

,

Kim Kardashian

,

Kirstie Alley

,

Kourtney Kardashian

,

Lisa Rinna

,

Lucas Grabeel

,

Marlee Matlin

,

Melissa Joan Hart

,

Melissa Rycroft

,

Mathieu Giroux

,

Nicki Minaj

,

Nicky Sapera

,

Roger Federer

(Evan Cundal),

Noriaki Kasai

,

Olga Fatkulina

,

Pamela Anderson

,

Priscilla Presley

,

Sabrina Bryan

,

Shawn Johnson

,

Sung Si-Bak

,

Sven Kramer

,

Sylvain Dufour

,

Tomoka Takeuchi

,

Vic Wild

,

Viktor Ahn

(Jiroemon Kimura),

Vita Semerenko

,

Vladimir Grigorev

(Allen Ford),

Zbigniew Bródka

)

BATC contestants (Season 2)

Season 2 (

Slovakia

/

Ukraine

) (

Austin Fannin

,

Big Sean

,

Britney Spears

,

Brooke Burke Charvet

,

Crystal Grierson

,

David Bowie

,

David Guetta

,

Donald Driver

,

Donny Osmond

,

Hines Ward

,

J. R. Martinez

,

Jennie Finch

,

Jennie Garth

,

Jennifer Grey

,

Jennifer Lopez

,

Joanna Krupa

,

Justin Bieber

,

Katherine Heigl

,

Katherine Jenkins

,

Kid Cudi

,

Kristi Yamaguchi

,

Kristin Cavallari

,

Laila Ali

,

Lil Wayne

,

Maria Kanellis

,

Maria Menounos

,

Maria Redaelli-Granoli

,

Marie Osmond

,

Mario Lopez

,

Mark McGrath

,

Masao Kaga

,

Mel B

,

Michael Irvin

,

Mýa

,

Nas

,

Nicole Scherzinger

,

Regis Philbin

,

Ricki Lake

,

Rob Kardashian

,

Ryan Duchak

,

William Levy

,

Yoshi Kitamura

,

Young Jeezy

)

BATC contestants (Season 3)

Season 3 (

Italy

/

Russia

) (

Alexandra Raisman

,

Amber Riley

,

Andy Dick

,

Arturo Licata

,

Avril Lavigne

,

Bella Throne

,

Bernice Madigan

,

Beth Tweedle

,

Bill Engvall

,

Bill Nye

,

Brant Daugherty

,

Cam Connor

,

Christina Milian

,

Cody Good

,

Cody Linley

,

Corbin Bleu

,

D. L. Hughley

,

Dorothy Hamill

,

Elizabeth Berkley Lauren

,

Gabrielle Douglas

,

Georgina Rizk

,

Harry Styles

,

Ingo Rademacher

,

Jack Osbourne

,

Jacoby Jones

,

Jesse G. James

,

Kellie Pickler

,

Kerli

,

Kesha

,

Keyshawn Johnson

,

Kris Allen

,

Leah Remini

,

Liam Payne

,

Lisa Vanderpump

,

Nicole "Snooki" Polizzi

,

Nicole Cortese

,

Ozzy Osbourne

,

PSY

,

Rachel Riley

,

Riyo Mori

,

Sean Lowe

,

Shakira

,

Steve Harvey

,

T-Pain

,

Taylor Swift

,

Tom Cruise

,

Valerie Harper

,

Victor Ortiz

,

Wynonna Judd

,

Zendaya Coleman

)

BATC contestants (Season 4)
BATC contestants (Season 5)
BATC contestants (Season 6)
BATC contestants (Season 7)
BATC season 8 contestants
BATC season 10 contestants
Pokémon
Others