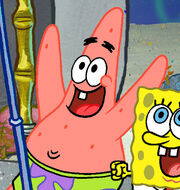 Patrick Star is a male character from SpongeBob SquarePants Universe who is a male starfish and he is SpongeBob's best friend from the New Leaf. He was mostly and hating Gabriella Montez and Allen Ford in the game. He is played by Bill Fagerbakke.
Palette swap
Edit
Template:Patrick Star Special Moves
Ad blocker interference detected!
Wikia is a free-to-use site that makes money from advertising. We have a modified experience for viewers using ad blockers

Wikia is not accessible if you've made further modifications. Remove the custom ad blocker rule(s) and the page will load as expected.