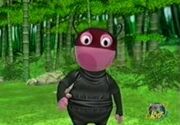 Ninja Uniqua is a female Backyardigans character that is chosen to be on the Super Smash Bros. Bowl (series) who is played by Uniqua. She might look like Hyponsis in Fear of a Krabby Patty .
She is covered mostly in black expect for her face.
Appearances
Edit
Uniqua has only played as Ninja Uniqua in one episode of the Backyardigans, Samurai Pie, from season two.
Ad blocker interference detected!
Wikia is a free-to-use site that makes money from advertising. We have a modified experience for viewers using ad blockers

Wikia is not accessible if you've made further modifications. Remove the custom ad blocker rule(s) and the page will load as expected.