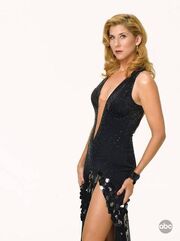 Monica Seles (Template:Lang-sr, Monika Seleš, Template:Lang-hu, Template:IPA-sh, born December 2, 1973) is a former World No. 1 professional tennis player and a member of the International Tennis Hall of Fame. She was born and raised in Novi Sad, SR Serbia, SFR Yugoslavia, to Hungarian parents. She became a naturalized United States citizen in 1994 and also received Hungarian citizenship in June 2007.[1][2] She won nine Grand Slam singles titles, winning eight of them while a citizen of Yugoslavia and one while a citizen of the United States.
In 1990, at the age of 16, Seles became the youngest-ever French Open champion. She went on to win eight Grand Slam singles titles before her 20th birthday and was the year-end World No. 1 in 1991 and 1992. However, in April 1993 she was the victim of an on-court attack, when a man stabbed her in the back with a 9-inch-long knife.[3] Seles did not return to tennis for over two years. Though she enjoyed some success after rejoining the tour in 1995, including a fourth Australian Open success in 1996, she was unable to consistently reproduce her best form. She played her last professional match at the 2003 French Open, but did not officially retire until February 2008.
In June 2011, she was named one of the "30 Legends of Women's Tennis: Past, Present and Future" by Time.[4]
Early life
Edit
Seles was born in Novi Sad, Yugoslavia into an ethnic Hungarian family. Her parents' names are Eszter and Károly and she has an older brother, Zoltán. She began playing tennis at age five, coached by her father. Károly Szeles, a professional cartoonist, drew pictures for her, to make her tennis more fun. He is responsible for developing her two-handed style for both the forehand and backhand.[5] Later, her coach was Jelena Genčić. In 1985 at age 11, she won the Orange Bowl tournament in Miami, Florida, catching the attention of tennis coach Nick Bollettieri. In 1986 the Seles family moved from Yugoslavia to the United States, and Seles enrolled at the Nick Bollettieri Tennis Academy, where she trained for two years.
Seles played her first professional tournament in 1988 at age 14. The following year she joined the professional tour full-time, winning her first career title at Houston in May 1989, where she beat the soon-to-retire Chris Evert in the final. A month later, Seles reached the semifinals of her first Grand Slam singles tournament at the French Open, losing to world no. 1 Steffi Graf, 3-6, 6-3, 3-6. Seles finished her first year on the tour ranked world no. 6.
Seles won her first Grand Slam singles title at the 1990 French Open. Facing world no. 1 Steffi Graf in the final, Seles saved four set points in a first set tiebreaker, which she won 8–6, and went on to take the match in straight sets. In doing so, she became the youngest-ever French Open singles titlist at the age of 16 years, 6 months. She also won the 1990 year-end Virginia Slims Championships, defeating Gabriela Sabatini in five sets. She finished the year ranked world no. 2.
1991 was the first of two years in which Seles dominated the women's tour. She started out by winning the Australian Open in January, beating Jana Novotná in the final. In March, she replaced Graf as the world no. 1. She then successfully defended her French Open title, beating the former youngest-ever winner, Arantxa Sánchez Vicario, in the final. Unable to play at Wimbledon, Seles took a six-week break, suffering from shin splints. But she was back in time for the US Open, which she won by beating Martina Navratilova in the final, her third Grand Slam title of the year, to cement her position at the top of the world rankings. She also won the year-end Virginia Slims Championships, defeating Navratilova in four sets.
1992 was an equally dominant year. Seles successfully defended her titles at the Australian Open, the French Open, and the US Open. She also reached the final at Wimbledon, but lost to Graf, 2-6, 1-6. Two opponents (including Navratilova in the semifinals) had strongly complained about Seles's grunting.
From January 1991 through February 1993, Seles won 22 titles and reached 33 finals out of the 34 tournaments she played. She compiled a 159–12 win-loss record (92.9% winning percentage), including a 55–1 win-loss record (98%) in Grand Slam tournaments. In the broader context of her first four years on the circuit (1989–1992), Seles had a win-loss record of 231–25 (90.2%) and collected 30 titles.
1993 stabbing
Edit
Seles was the top women's player heading into 1993, having won the French Open three consecutive years and both the US Open and Australian Open in consecutive years. In January 1993, Seles defeated Graf in the final of the Australian Open, which to date was her third win in four Grand Slam finals against Graf.
However, on April 30 during a quarterfinal match with Magdalena Maleeva in Hamburg in which Seles was leading 6–4, 4–3, Günter Parche, an obsessed fan of Steffi Graf, ran from the middle of the crowd to the edge of the court during a break between games and stabbed Seles with a boning knife between her shoulder blades, to a depth of 1.5 cm (0.59 inches). She was quickly rushed to a hospital. Although her physical injuries took only a few weeks to heal, she did not return to competitive tennis for more than two years. Initially, there was speculation that the attack may have been politically motivated because of Seles' Serbian roots. She was known to have received death threats in relation to the ongoing conflict in her native Yugoslavia. However, German authorities were quick to rule this out, describing her attacker as confused and possibly mentally disturbed.[3]
Parche was charged following the incident, but was not jailed because he was found to be psychologically abnormal, and was instead sentenced to two years' probation and psychological treatment. The incident prompted a significant increase in the level of security at tour events.[3] At the French Open, held less than a month after the attack, the trophy presentation ceremony took place on the court, rather than in the stands amongst spectators, as it had been done previously. At that year's Wimbledon, the players seats were positioned with their backs to the umpire's chair, rather than the spectators, although some players, including Graf, moved the chair back to its original position. Seles, however, disputed the effectiveness of these measures. She was quoted in 2011 as saying "From the time I was stabbed, I think the security hasn't changed".[6] Seles vowed never to play tennis in Germany again, disenchanted by the German legal system. "What people seem to be forgetting is that this man stabbed me intentionally and he did not serve any sort of punishment for it... I would not feel comfortable going back. I don't foresee that happening."[7]
Young Elders, a band from Melbourne, Australia, sent their song called "Fly Monica Fly" to Seles while she was recuperating from the 1993 stabbing incident. She later said that the song provided inspiration to her at that time, and subsequently met the band (who later changed their name to The Monicas) following her victory at the Australian Open in 1996.[8]
The stabbing incident is also the subject of Dan Bern's 1998 tribute to Seles, "Monica". Additionally, Detroit dreampop band Majesty Crush paid tribute with "Seles" from the 1993 album Love-15.
In the fourth series of his British sketch comedy show A Bit of Fry & Laurie, Hugh Laurie referenced the Seles stabbing incident when he performed an original song entitled "I'm in Love with Steffi Graf," in which he pretended to be an obsessed fan of Graf's who was willing to "kill to make her happy, or just to get her through the early rounds." The song was performed in the style of a rock ballad.
Seles returned to the tour in August 1995 and won her first comeback tournament, the Canadian Open, beating Amanda Coetzer in the final, 6–0, 6–1. The following month at the US Open, Seles lost the final to Graf, 6–7, 6–0, 3–6, after failing to capitalize on a set point in the first set.
In January 1996, Seles won her fourth Australian Open, beating Anke Huber in the final. But this was her last Grand Slam title. Seles struggled to recapture her best form on a consistent basis. Her difficulties were compounded by having to cope with her father and long-term coach Károly being stricken by cancer and eventually dying in 1998. Seles was the runner-up at the US Open to Graf again in 1996. Her last Grand Slam final came at the French Open in 1998 (a few weeks after her father's death). She defeated world no. 3 Jana Novotná in three sets and world no. 1 Martina Hingis in straight sets, before losing to Arantxa Sánchez Vicario in the three-set final.
While she did not reach another Grand Slam singles final, she did consistently reach the quarterfinal and semifinal stages in those tournaments and was a fixture in the WTA Tour's top 10. In 2002, her last full year on the tour, she finished the year ranked world no. 7, defeated Venus Williams, Martina Hingis, Jennifer Capriati, Justine Henin, Maria Sharapova, Kim Clijsters, and Lindsay Davenport, and reached at least the quarterfinals at each Grand Slam tournament.
After becoming a U.S. citizen in 1994, Seles helped the U.S. team win the Fed Cup in 1996, 1999, and 2000. She also won a bronze medal at the 2000 Olympic Games in Sydney.
In the spring of 2003, Seles sustained a foot injury. She was forced to withdraw during the second set of a match against Nadia Petrova at the Italian Open. Then, a couple of weeks later and still injured, she lost in straight sets to the same player in the first round of the 2003 French Open. It was the only time she ever lost a first-round match at a Grand Slam. She never again played an official tour match.[9]
In February 2005, Seles played two exhibition matches in New Zealand against Navratilova. Despite losing both matches, she played competitively and announced that she could return to the game early in 2006; however, she did not do so. She played three exhibition matches against Navratilova in 2007. On April 5, she defeated Navratilova in Houston, Texas, on clay, 7–6 (1), 2–6, 10–1 (tiebreak).[10] On September 14, Seles defeated Navratilova on an indoor court in New Orleans, Louisiana, 6–2, 6–4. On September 16, she defeated Navratilova on clay in Bucharest, Romania, 3–6, 6–3, 10–7 (tiebreak).[11]
In December 2007, Seles said to the press that Lindsay Davenport's successful return to the tour had inspired her to consider her own limited comeback to play Grand Slam tournaments and the major warm-up events for those tournaments. However, on February 14, 2008, Seles announced her official retirement from professional tennis.[12]
In January 2009, Seles was elected to the International Tennis Hall of Fame[13]
Career assessment
Edit
Seles was listed as the 13th greatest player of all time (men and women) by (U.S.) Tennis magazine and was also one of 15 women named by Australian Tennis magazine as the greatest champions of the last 30 years (players were listed chronologically).
In 2012, Tennis Channel created a list of the "100 Greatest Of All Time" tennis players. Seles was listed at #19.
Seles's career was affected by the stabbing incident; her trajectory was indicative of continuing future greatness. During the height of her career (1990 French Open through the 1993 Australian Open), she won 8 of the 11 Grand Slam singles tournaments she contested.
Until her loss to Martina Hingis at the 1999 Australian Open, Seles had a perfect record at the event (33–0), which is the longest undefeated streak for this tournament (although Margaret Court won 38 consecutive matches there from 1960 to 1968 after losing a match in 1959). It also marked her first defeat in Australia, having won the Sydney tournament in 1996. Seles was the first female tennis player to win her first six Grand Slam singles finals: 1990 French Open, 1991 Australian Open, 1991 French Open, US Open, 1992 Australian Open, and 1992 French Open. Seles was also the first female player since Hilde Krahwinkel Sperling in 1937 to win the women's singles title three consecutive years at the French Open. (Chris Evert, however, won the title the four consecutive times she played the tournament: 1974, 1975, 1979, and 1980; in 2007, Justine Henin won her third consecutive French Open singles title.) With eight Grand Slam singles titles before her 20th birthday, Seles holds the record for most Grand Slam singles titles won as a teenager.
Shortly after her retirement, Sports Illustrated writer Jon Wertheim summed up her later career: Template:Bquote
Seles was a popular player, winning the inaugural Sanex Hero of the Year award in 2002. This award was voted by fans around the world. She was elected to the International Tennis Hall of Fame in 2009.[14]
Humanitarian work
Edit
Monica Seles is the Goodwill Ambassador of IIMSAM, the Intergovernmental Institution for the use of Micro-algae Spirulina Against Malnutrition IIMSAM to make Spirulina, a key driver to eradicate malnutrition, achieve food security and bridge the health divide in order to secure the UN Millennium Development Goals with a special priority for the developing and the least developed countries.[15]
Monica Seles was appointed by Remigio Martin Maradona of IIMSAM.
Autobiography
Edit
On April 21, 2009, Seles released her memoir Getting A Grip: On My Body, My Mind, My Self which chronicles her bout with depression and food addiction after her stabbing, her father's cancer diagnosis and eventual death, her journey back to the game and a life beyond tennis.[16]
Personal life
Edit
Since 2009, Seles has been dating billionaire Tom Golisano.[17][18]
Entertainment
Edit
In 1996, Seles made a guest appearance in the TV sitcom The Nanny.[19] She also appeared in 2008 in the TV series Dancing with the Stars as one of the contestants.[20]
She earned the lowest mambo in DWTS history.
Career statistics
Edit
Main article: Monica Seles career statistics
These records were attained in Open Era of tennis.
Records in bold indicate peer-less achievements.
References
Edit
External links
Edit
Template:Monica Seles start boxes Script error Script error
Eastern Ontario

Pearl Krabs

,

Brooke Burke Charvet

,

Allen Ford

,

Mrs. Puff

,

Sharpay Evans

,

Ryan Evans

,

Chad Danforth

,

Taylor McKessie

,

Troy Bolton

,

Gabriella Montez

,

Crystal Grierson

,

Trina Vega

,

Tori Vega

,

Jade West

,

Cat Valentine

,

Nicky Sapera

,

Evan Cundal

,

Lindsay Goldman

,

Dave Shugar

,

Mao Asada

,

Mai Asada

,

Halley Van Muyen

,

Caroline Dalpe

,

Yuna Kim

,

SpongeBob SquarePants

,

Patrick Star

,

Squidward Tentacles

,

Sandy Cheeks

,

Mr. Krabs

,

Plankton

,

Squilliam Fancyson

,

Karen Plankton

,

Tasha

,

Louis van Amstel

,

Mark Ballas

,

Toad

,

Toadette

,

Yoshi

,

Birdo

,

Troypay

,

Akiko Suzuki

,

Shannon Fielding

,

Boinga

,

Lava Springs Country Club

,

E.M.I.L.P

,

Betsy Krabs

,

Nesmith

,

Empress Tasha

,

Empress Kelsi

,

High School Musical

,

High School Musical 2

,

High School Musical 3: Senior Year

,

Julianne Hough

,

Olesya Rulin

,

East High

,

Mrs. Montez

,

Nat Peterson

,

O Canada

,

O Narnia

,

O Hogwarts

,

Tom Green

,

Boo

,

O SpongeBob

,

Khloé Kardashian

,

Maria Kanellis

,

Katy Perry

,

Kelly Clarkson

,

Nicki Minaj

(

Onika Tanya Maraj

,

Nicki Maraj

,

Onika Tanya Minaj

,

Starships

),

Avril Lavigne

,

Rihanna

,

Mark Aln

,

Jesse G. James

,

Kitty Katswell

,

Zsa Zsa Gabor

,

Vera Lynn

,

Jerry Lewis

,

Chuck Berry

,

Christopher Lee

,

Aretha Franklin

,

Van Cliburn

,

Penny Marshall

,

Bruce Forsyth

,

Olivia de Havilland

,

Joan Fontaine

,

Jane Wyman

,

Dylan and Cole Sprouse

,

Shakira

,

June Allyson

,

Gerald Ford

,

Grim Reaper

,

Grim Reaper (2006-2009)

 •

Jules Bianchi

 •

Justin Wilson

Supercentenarians

Anonymous Pending Japanese

,

Jeralean Talley

,

Susannah Mushatt Jones

,

Bernice Madigan

,

Soledad Mexia

,

Evelyn Kozak

,

Mitsue Nagasaki

,

Emma Morano-Martinuzzi

,

Grace Jones

,

Jeanne Calment

,

Sarah Knauss

,

Lucy Hannah

,

Marie-Louise Meilleur

,

Maria Capovilla

,

Tane Ikai

,

Elizabeth Bolden

,

Besse Cooper

,

Jiroemon Kimura

(the ninth would be

Yoshi

),

Maggie Barnes

,

Dina Manfredini

,

Christian Mortensen

,

Charlotte Hughes

,

Edna Parker

,

Mary Ann Rhodes

,

Margaret Skeete

,

Gertrude Baines

,

Emiliano Mercado del Toro

,

Bettie Wilson

,

Julie Winnefred Bertrand

,

Maria de Jesus

,

Susie Gibson

,

Augusta Holtz

,

Hendrikje van Andel-Schipper

,

Maude Farris-Luse

,

Marie Brémont

,

Koto Okubo

,

Chiyono Hasegawa

,

Misao Okawa

,

Gertrude Weaver

,

Annie Jennings

,

Eva Morris

,

Kama Chinen

,

Maria Gomes Valentim

,

Mary Bidwell

,

Mary Josephine Ray

,

Maria do Couto Maia-Lopes

,

Ramona Trinidad Iglesias-Jordan

,

Eugénie Blanchard

,

Venere Pizzinato-Papo

,

Neva Morris

,

Hide Ohira

,

Yone Minagawa

,

M.A.C.C.

,

Carrie Lazenby

/

Ura Koyama

,

Myrtle Dorsey

,

Anna Eliza Williams

,

Walter Breuning

,

Eunice Sanborn

,

Grace Clawson

,

Tase Matsaunga

,

Yukichi Chuganji

,

Kame Nakamura

,

Lydie Vellard

/

Wilhelmina Kott

/

Adelina Domingues

,

Mitoyo Kawate

,

Camille Loiseau

/

Charlotte Benkner

,

Anne Primout

,

Ettie Mae Greene

,

Irene Frank

,

Christina Cock

,

Olivia Patricia Thomas

,

Emma Verona Johnston

/

Mamie Rearden

,

Bettie Chatmon

,

Odie Matthews

,

Chiyo Shiraishi

,

Asa Takii

,

Florence Knapp

/

Elena Slough

,

Lucy Jane Askew

/

Mary Anna Boone

,

M.C.L.L.

,

Waka Shirahama

/

Delma Kollar

,

Joan Riudavets

,

Suekiku Miyanaga

,

Shige Hirooka

,

Maggie Renfro

,

Emma Tillman

,

Leila Denmark

,

Florrie Baldwin

,

Amy Hulmes

,

Grace Thaxton

,

Minnie Ward

,

Arbella Ewing

,

Catherine Hagel

,

Marie-Thérèse Bardet

,

Virginia Dighero-Zolezzi

,

Fred Hale

,

Hatsue Ono

,

Miriam Carpelan

,

Yasu Akino

/

Bertha Fry

,

Maria Redaelli-Granoli

,

Elsie Thompson

,

Mae Harrington

,

Daisey Bailey

Wipeout Canada
Countries
HSM Songs

Start of Something New

,

Get'cha Head in the Game

,

What I've Been Looking For

,

What I've Been Looking For (Reprise)

,

Stick to the Status Quo

,

When There Was Me and You

,

Bop to the Top

,

Breaking Free

,

We're All In This Together

,

I Can't Take My Eyes Off of You

,

What Time Is It? (Summer Time's Version)

,

Fabulous

,

Work This Out

,

You Are the Music In Me

,

I Don't Dance

,

You Are the Music In Me (Sharpay)

,

Gotta Go My Own Way

,

Bet on It

,

Everyday

,

All for One

,

Humuhumunukanuka'apua'a

,

Now Or Never

,

Right Here, Right Now

,

I Want It All

,

Can I Have This Dance?

,

A Night To Remember

,

Just Wanna Be With You

,

The Boys are Back

,

Walk Away

,

Scream

,

Senior Year Spring Medley

,

We're All In This Together

,

High School Musical

BATC contestants (Season 1)

Season 1 (

Adam Carolla

,

Akiko Suzuki

(Nicky Sapera),

Akito Watabe

,

Allen Ford

,

Apolo Anton Ohno

,

Benjamin Karl

,

Bristol Palin

,

Drake

,

Drew Lachey

,

Emmitt Smith

,

Empress Tasha

,

Evan Cundal

,

Evgeni Plushenko

,

Gilles Marini

,

Hélio Castroneves

,

Ina Meschik

,

Jiroemon Kimura

,

Joey Fatone

,

Justyna Kowalczyk

,

Katy Perry

,

Kelly Clarkson

,

Kelly Monaco

,

Khloé Kardashian

,

Kim Kardashian

,

Kirstie Alley

,

Kourtney Kardashian

,

Lisa Rinna

,

Lucas Grabeel

,

Marlee Matlin

,

Melissa Joan Hart

,

Melissa Rycroft

,

Mathieu Giroux

,

Nicki Minaj

,

Nicky Sapera

,

Roger Federer

(Evan Cundal),

Noriaki Kasai

,

Olga Fatkulina

,

Pamela Anderson

,

Priscilla Presley

,

Sabrina Bryan

,

Shawn Johnson

,

Sung Si-Bak

,

Sven Kramer

,

Sylvain Dufour

,

Tomoka Takeuchi

,

Vic Wild

,

Viktor Ahn

(Jiroemon Kimura),

Vita Semerenko

,

Vladimir Grigorev

(Allen Ford),

Zbigniew Bródka

)

BATC contestants (Season 2)

Season 2 (

Slovakia

/

Ukraine

) (

Austin Fannin

,

Big Sean

,

Britney Spears

,

Brooke Burke Charvet

,

Crystal Grierson

,

David Bowie

,

David Guetta

,

Donald Driver

,

Donny Osmond

,

Hines Ward

,

J. R. Martinez

,

Jennie Finch

,

Jennie Garth

,

Jennifer Grey

,

Jennifer Lopez

,

Joanna Krupa

,

Justin Bieber

,

Katherine Heigl

,

Katherine Jenkins

,

Kid Cudi

,

Kristi Yamaguchi

,

Kristin Cavallari

,

Laila Ali

,

Lil Wayne

,

Maria Kanellis

,

Maria Menounos

,

Maria Redaelli-Granoli

,

Marie Osmond

,

Mario Lopez

,

Mark McGrath

,

Masao Kaga

,

Mel B

,

Michael Irvin

,

Mýa

,

Nas

,

Nicole Scherzinger

,

Regis Philbin

,

Ricki Lake

,

Rob Kardashian

,

Ryan Duchak

,

William Levy

,

Yoshi Kitamura

,

Young Jeezy

)

BATC contestants (Season 3)

Season 3 (

Italy

/

Russia

) (

Alexandra Raisman

,

Amber Riley

,

Andy Dick

,

Arturo Licata

,

Avril Lavigne

,

Bella Throne

,

Bernice Madigan

,

Beth Tweedle

,

Bill Engvall

,

Bill Nye

,

Brant Daugherty

,

Cam Connor

,

Christina Milian

,

Cody Good

,

Cody Linley

,

Corbin Bleu

,

D. L. Hughley

,

Dorothy Hamill

,

Elizabeth Berkley Lauren

,

Gabrielle Douglas

,

Georgina Rizk

,

Harry Styles

,

Ingo Rademacher

,

Jack Osbourne

,

Jacoby Jones

,

Jesse G. James

,

Kellie Pickler

,

Kerli

,

Kesha

,

Keyshawn Johnson

,

Kris Allen

,

Leah Remini

,

Liam Payne

,

Lisa Vanderpump

,

Nicole "Snooki" Polizzi

,

Nicole Cortese

,

Ozzy Osbourne

,

PSY

,

Rachel Riley

,

Riyo Mori

,

Sean Lowe

,

Shakira

,

Steve Harvey

,

T-Pain

,

Taylor Swift

,

Tom Cruise

,

Valerie Harper

,

Victor Ortiz

,

Wynonna Judd

,

Zendaya Coleman

)

BATC contestants (Season 4)
BATC contestants (Season 5)
BATC contestants (Season 6)
BATC contestants (Season 7)
BATC season 8 contestants
BATC season 10 contestants
Pokémon
Others