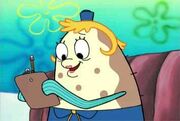 Mary Jo Catlett is an American actress best known for playing Mrs. Puff in SpongeBob SquarePants and Wipeout Canada. She plays Kelsi Nielsen in Hot Cop and the Fuzz only on Wipeout. She was born (September 2, 1938) in Denver, Colorado, United States and then she moved to Deep River, Ontario and then she moved to Pembroke, Ontario (Wipeout Canada).
Ad blocker interference detected!
Wikia is a free-to-use site that makes money from advertising. We have a modified experience for viewers using ad blockers

Wikia is not accessible if you've made further modifications. Remove the custom ad blocker rule(s) and the page will load as expected.