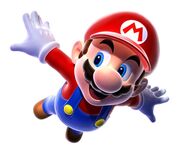 Mario is a playable character in Super Smash Bros. Cheerleaders vs Coach Potatoes. Mario is a returning character present for all songs expect High School Musical. In Gotta Go My Own Way, Peach and Daisy get a present for Mario in the whole song. After Jacquelynn Esclante stole Gabriella Montez's bag, Toad and Toadette had trouble playing.
Ad blocker interference detected!
Wikia is a free-to-use site that makes money from advertising. We have a modified experience for viewers using ad blockers

Wikia is not accessible if you've made further modifications. Remove the custom ad blocker rule(s) and the page will load as expected.