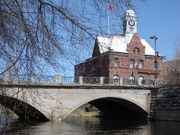 "Mad Scientist Kelsi" is a scientist played by Kelsi Nielsen (Olesya Rulin) of Pembroke, ON in Dunces vs. Dragons. She is here to work with all other Pembroke, Ontario contestants like Allen Ford, Mad Fencer and Bad Camouflage in the room and it was owed by all four contestants that was chosen to be in the first season (Pembroke, Ontario, Canada).
How to Unlock
Edit
Play as Mrs. Puff.
Use a country that did not qualify for the 2010 World Cup. (e.g. Poland, Sweden, Ecuador, Croatia etc.)
Ad blocker interference detected!
Wikia is a free-to-use site that makes money from advertising. We have a modified experience for viewers using ad blockers

Wikia is not accessible if you've made further modifications. Remove the custom ad blocker rule(s) and the page will load as expected.