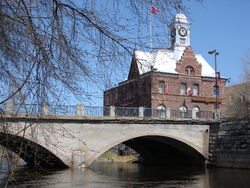 "Mad Foxy Fencer" is a foxy fencer who is played by Nicky Sapera from Wipeout Canada (Athletes Edition) and works at the Mad Scientist's Kingdom (owed by all of the four Pembroke, Ontario, Canada contestants like Kelsi Nielsen, Evan Cundal and Allen Ford of Wipeout Canada) in Dunces vs. Dragons and she is currently from Pembroke, Ontario, Canada.
Ad blocker interference detected!
Wikia is a free-to-use site that makes money from advertising. We have a modified experience for viewers using ad blockers

Wikia is not accessible if you've made further modifications. Remove the custom ad blocker rule(s) and the page will load as expected.