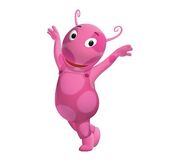 LaShawn Tináh Jefferies (born December 24, 1994) is an American actress. Her acting roles are the talking voice of Uniqua on The Backyardigans and Christmas Evans on the independent film Whitepaddy. Her older brother, Marc John Jefferies, is also an actor. LaShawn Tinah also has a little brother named Marc Arthur Jefferies. She lives in New York, New York, Pennsylvania and California.
Ad blocker interference detected!
Wikia is a free-to-use site that makes money from advertising. We have a modified experience for viewers using ad blockers

Wikia is not accessible if you've made further modifications. Remove the custom ad blocker rule(s) and the page will load as expected.