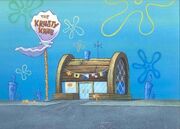 The Krusty Krab is an unlockable stage in all of the Super Smash Bros. Bowl games. The Krusty Kantina is similar to this place.
SpongeBob: Fry Cook
Mr. Krabs: Goes to his office
Squidward: Pays money for the Krabby Patty
Pearl: Only in this place in the episodes Scaredy Pants and Growth Spout
Gabriella: Plays Wipeout Canada
Yoshi, Maria Filippov, Jiroemon Kimura, Birdo: Have to eat at the place first, then participate. The place is closed for season 2 due to Lava Springs having a failure.
Sharpay: Goes to Allen Ford's house in Pembroke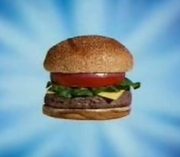 Ad blocker interference detected!
Wikia is a free-to-use site that makes money from advertising. We have a modified experience for viewers using ad blockers

Wikia is not accessible if you've made further modifications. Remove the custom ad blocker rule(s) and the page will load as expected.