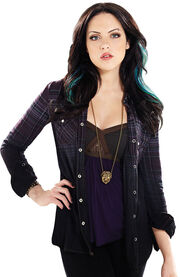 Jade West is one of the main characters in the Nickelodeon TV series Victorious and appeared as an unlockable character after clearing the Dizzy Dummy with Kelsi Nielsen or Allen Ford. She appears to be very goth and very punk-like in her attitude and the way she dresses. She can be very mean and equally possessive of her boyfriend, Beck Oliver, and tends to get jealous easily. This attitude may have a connection to her father as Mrs. Puff and she described him as cold and judgmental in Wok Star. She has a thing for scissors and other weird things such as a lump of fat (Rex Dies), monkey fur, (Freak the Freak Out) and blood (Tori Gets Stuck). She is an actress (played Olivia in A Film by Dale Squires), scriptwriter (wrote and produced Well Wishes, directed, starred in and produced her re-audition in Helen Back Again ), and singer (Sung the song Give It Up with Cat Valentine, backing vocals in Strangers on a Bus, part of an unnamed song of Andre's and the theme song of Drake & Josh with Cat). Her seemingly best friend is Cat Valentine, and she appears to be on moderately good terms with Andre Harris.
She is portrayed by Elizabeth Gillies.
Ad blocker interference detected!
Wikia is a free-to-use site that makes money from advertising. We have a modified experience for viewers using ad blockers

Wikia is not accessible if you've made further modifications. Remove the custom ad blocker rule(s) and the page will load as expected.