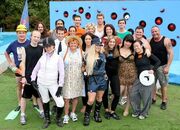 Hot Cop and the Fuzz is an episode of Wipeout Canada.
Episode 8: Hot Cop and The Fuzz
Edit
Competition:
Finals
Week
Qualifier (Buoy Run, Sucker Punch Wall, Big Balls, Field Goal Swing)
Sweeper
Dizzy Dummy (Tippy Tables, Big Donuts)
Wipeout Zone (Killer Surf, Barrel Run, Water Wall, Sponge Towel Spinner, Roller, Launch Pads)
Place
Contestant
Results
1
'Mr. Perfect' Jonathan Bald*
1st (01:47,13)
1st*
1st
Winner (02:54,81)
2
'The Worm' Brandon Jannaway
9th (03:13,00)
7th
2nd
2nd Place (03:14,23)
3
'The Fuzz' Kris Kluz
5th (02:37,22)
6th
3rd
Out Of Time
4
'Tiny Dancer' Ashley Chappelle
6th (02:42,92)
2nd
4th
Quit*
5
'Polish Dancer' Adrianna Szarek
4th (02:18,00)
5th
Eliminated
6
'Overachiever' Connie Lee
10th (03:22,11)
4th
Eliminated
7
'Casadia Pipper' Matthew Brake
3rd (02:01,80)
3rd
Quit*
8
'Hire Me' Effie Voulgaris
8th (02:54,31)
Eliminated
9
'Jo...Jo...Jockey' Joanne Solverson
11th (03:28,00)
Eliminated
10
'The Weiner' Steven Smith
2nd (01:58,77)
Eliminated
11
'Burping Champ' Slawomir Czyz
12th (03:37,12)
Eliminated
12
'Hot Cop' Kara Darnley
7th (02:47,09)
Eliminated
13
'Cougar In Training' Shannon Boudreau
Eliminated
14
'Iron Bull' Josh Ostafichuk
Eliminated
15
'Medieval Women' Joanne Bentley
Eliminated
16
'PEI Siren' Elly Cash
Eliminated
17
'Headband-er' Reggie Gill
Eliminated
18
Robert 'Air Guitar' Vargo
Eliminated
19
Stephanie 'The Accountantanator' Law
Eliminated
20
'Former All-Star Sea Feller' Troy Westwood
Eliminated
Ad blocker interference detected!
Wikia is a free-to-use site that makes money from advertising. We have a modified experience for viewers using ad blockers

Wikia is not accessible if you've made further modifications. Remove the custom ad blocker rule(s) and the page will load as expected.