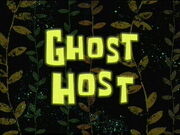 Ghost Host is no longer chosen on the second season of the show Wipeout Canada with Kelsi Nielsen because she is still in the first season and all seasons from the heart of the Ottawa Valley (Pembroke, Ontario).
Ad blocker interference detected!
Wikia is a free-to-use site that makes money from advertising. We have a modified experience for viewers using ad blockers

Wikia is not accessible if you've made further modifications. Remove the custom ad blocker rule(s) and the page will load as expected.