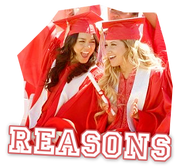 Gabriella Montez and Sharpay Evans.
High School Musical
Edit
In the first movie of High School Musical series called 2006's High School Musical' 1, they both do have and the two brang cell phones to East High and they both have a detention. When Sharpay gets hurt by making creme brulee from Zeke Baylor (after Stick to the Status Quo), she got it and Troy Bolton fixed it. They both auditioned for Twinkle Towne.
Ad blocker interference detected!
Wikia is a free-to-use site that makes money from advertising. We have a modified experience for viewers using ad blockers

Wikia is not accessible if you've made further modifications. Remove the custom ad blocker rule(s) and the page will load as expected.