East vs. West is the sixth episode of the first season on Wipeout Canada.
Contestants
Edit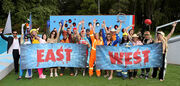 Andrea Muhlbach
Edit
Andrea Mulhbach is a contestant currently from Stettler, Alberta. She is a barn girl and was a cowgirl since 1995.
Brent Byers
Edit
Brent Byers was a contestant currently from Camrose, Alberta. Much like Andrea in this episode.
Caroline Dalpe
Edit
Caroline Dalpe was a contestant from Rockland, Ontario. She works at the House of Commons of Canada.
Chad Kellgren
Edit
Chad Kellgren was a contestant from Alderflats, Alberta. He said Toronto sucked, so Phillips said it does not and lost to Olesya Rulin as Kelsi Nielsen.
Competition:
Finals
Week
Qualifier (Donuts, Sucker Punch Wall, Big Balls, Bubble Bath Swing)
Curtain Sweeper
Dizzy Dummy (Tippy Tables, Big Donuts)
Wipeout Zone (Killer Surf, Barrel Run, Water Wall, Sponge Towel Spinner, Roller, Launch Pads)*
Place
Contestant
Results
1
Trent 'The Sailor' Taylor
4th (01:52,00)
1st
1st
Winner (01:52,52)
2
'Long Rancher' Brent Byers
(?)
4th
3rd
2nd Place (01:56,53)
3
'Hippie' Towyn Watt
(?)
5th
4th
3rd Place (04:39,00)
4
'Mall Money' Marwan El Nashar
2nd (01:36,00)
3rd
2nd
Out Of Time
5
'Lumberjack' Marcel Scott
1st (?)
2nd
Eliminated
6
'Lobster Boy' Martin Daggett
(?)
6th
Eliminated
7
Sarah 'Bugs' McLean
(?)
7th
Eliminated
8
'Messenger' Caroline Dalpe
(?)
Eliminated
9
'Athletic 7 Girl' Cindy McCormick
(?)
Eliminated
10
'Swiss Miss' Andrea Muhlbach
(?)
Eliminated
11
'Rocky Mountain Girl' Lindsay Taylor
(?)
Eliminated
12
'Surfer Girl' Stephanie Florian
(?)
Eliminated
13
'Newfie Bullet' Vanessa Simon
Eliminated
14
'Road Worker' Sara Doiron
Eliminated
15
'Chicken Leg' Patrick Reilly
Eliminated
16
'Skateboarder With Tricks' Josh Knepper
Eliminated
17
'Wolf Man' Dennis Thomas
Eliminated
18
'Oil Worker' Chad Kellgren
Eliminated
19
'Coal Miner' Nicole Bethge
Eliminated
20
'Potato Girl' Jessica Rochford
Eliminated
Ad blocker interference detected!
Wikia is a free-to-use site that makes money from advertising. We have a modified experience for viewers using ad blockers

Wikia is not accessible if you've made further modifications. Remove the custom ad blocker rule(s) and the page will load as expected.