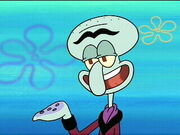 Dee Bradley Baker is known for playing Squilliam Fancyson and Bubble Bass in SpongeBob SquarePants, Perry the Platypus in Phineas and Ferb, Ron Langton from Beauties vs. Geeks in Wipeout Canada/Wipeout Canada: The Game, Elmer from Fairly Odd Parents and Ryan Duchak in Bernadette's Potty Mouth.
Roles (known for characters played)
Edit
Ad blocker interference detected!
Wikia is a free-to-use site that makes money from advertising. We have a modified experience for viewers using ad blockers

Wikia is not accessible if you've made further modifications. Remove the custom ad blocker rule(s) and the page will load as expected.