Darren Lopez

Family:

Judy Lopez (wife)

Becky Lopez (daugther)

Unknown Brothers/Sisters/Parents

Friends:

Age:

Maybe 34/35/43

Voiced By:

TBA

Cousins:

TBA

Goal:

Mime Peforming, Jazz Band
Darren Lopez is
Becky
's dad. His wife is
Judy Lopez
. He wears a red shirt, blue pants, and brown shoes. Unlike his wife,
Judy
, he hasen't got a speaking role in any of his appearances.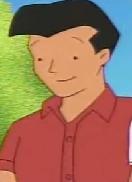 Appearances
Edit
Lost and Found Art (seen in brown hair)
Dog Sitting Miss Daisy (does not speak)
The More Things Change (seen with green shirt and sliver pants)
Down On The Bayou (seen in light skin)
Zoopercar Caper
Speed Shrinks
George vs. the Space Invaders (seen in tuxedo)
In Dog Sitting Miss Daisy, He peforms mime. He also does jazz band. He reappeared in The More Things Change wearing different clothes and also in another episode. He sometimes appear without his wife.
He appears with his wife in 3 Episodes.