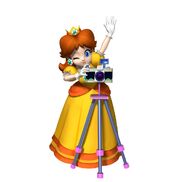 Daisy is a playable character in Super Smash Bros. Cheerleaders vs Coach Potatoes and Super Smash Bros. Bowl 1. Daisy does for a living is beat Peach in You are the Music in Me (Sharpay) during Krystal's performance. After Ryan Evans and Birdo do their baseball game, Daisy does not pay attention. Kelsi Nielsen beats Daisy in the game because Taryn Johnston and Shane Johnson are good sirens who can help Mr. Fulton find Kelsi Nielsen in Bridezilla's Charm Search. Daisy and Peach sings High School Musical 2's Gotta Go My Own Way and Fabulous on The Next Star Stage.
Ad blocker interference detected!
Wikia is a free-to-use site that makes money from advertising. We have a modified experience for viewers using ad blockers

Wikia is not accessible if you've made further modifications. Remove the custom ad blocker rule(s) and the page will load as expected.