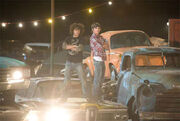 Chad Danforth and Troy Bolton.
In High School Musical 1, they both have and owe detention at East High.
In High School Musical 2, they both appear in What Time Is It?, Work This Out, You Are the Music in Me (during the end), Everyday and All For One.
In High School Musical 3: Senior Year, they sang a song as a duet (The Boys are Back) at the junkyard.
In Wipeout Canada, Allen Ford, Pearl Krabs and Kelsi Nielsen from Pembroke said "Chad Danforth, Taylor McKessie, Birdo, Crystal Grierson and Ron Langton of Ottawa" and the Pembroke contestants begin to sing This is My Song.
Ad blocker interference detected!
Wikia is a free-to-use site that makes money from advertising. We have a modified experience for viewers using ad blockers

Wikia is not accessible if you've made further modifications. Remove the custom ad blocker rule(s) and the page will load as expected.