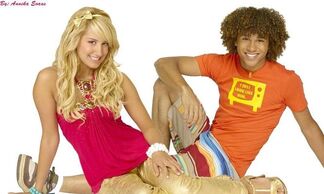 Chad Danforth and Sharpay Evans.
In High School Musical, they arrive at East High School in Albuquerque, New Mexico and they are both in the same class room. Both Chad Danforth and Sharpay Evans owe detention by the East High teacher Ms. Darbus (just before the song Get'cha Head in the Game). They both sing Stick to the Status Quo and they appear at the end (just after Breaking Free and before We're All In This Together).
THEY LOOK AWESOME TOGETHER!
In High School Musical 2 (just before What Time Is It?), it is East High's last day of school before it is summer and they go to Lava Springs Country Club (just before Fabulous).
Ad blocker interference detected!
Wikia is a free-to-use site that makes money from advertising. We have a modified experience for viewers using ad blockers

Wikia is not accessible if you've made further modifications. Remove the custom ad blocker rule(s) and the page will load as expected.