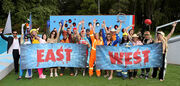 The Big Donuts only appear on East vs. West in Wipeout Canada. Some contestants fell into the mud for that episode. For example (that two twenty one year old characters Kelsi Nielsen and Sharpay Evans of Pembroke, Ontario or Petawawa, Ontario) throw at Pearl Krabs.
Cyd Charisse appeared on Wipeout Fanon on January 25, 2006. All contestants have to be 16. The obstacles of the course are: Big Donuts, Sucker Punch, the Big Balls and at last is the ???. She made it, then Etta James turned 68 and made it also and Ian Brady is only three weeks older than her. Some contestants could not make it, like Yvonne de Carlo, Celeste Holm, Denis Healey and Nelson Mandela. The other contestants who made it were Henry Allingham, Jiroemon Kimura, Anna Wing (who was eliminated the first round), Olivia de Havilland, Joan Fontaine, Zsa Zsa Gabor and Vera Lynn. After the Qualifier finishes, the twelve with the slowest times would be out, like Nelson Mandela finished the Qualifier in ten minutes. Jiroemon Kimura finished it in one minute and 23 seconds. After it ends, then the twelve with the best times (6 men and 6 women) will move on to the Sweeper. Etta James was the first to fall, and that means she is out!
Ad blocker interference detected!
Wikia is a free-to-use site that makes money from advertising. We have a modified experience for viewers using ad blockers

Wikia is not accessible if you've made further modifications. Remove the custom ad blocker rule(s) and the page will load as expected.