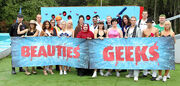 Beauties vs. Geeks is the third episode of Wipeout Canada. It aired in April 2011.
Only appearance of Standoff and Weldon, first appearance of Ottawa, Halifax and Edmonton.
Competition:
Finals
Week
Qualifier (Donuts, Sucker Punch Wall, Big Balls, Ball Swing)
Ball Crusher
Dizzy Dummy (Cylinder Run, Barrel Crossing)
Wipeout Zone (Killer Surf, Barrel Run, Water Wall, Sponge Towel Spinner, Roller, Launch Pads)***
Place
Contestant
Results
1
'Latin Lover' Martin Ruben Alvaro
1st (01:25,23)*
2nd
2nd
Winner (01:35,63)
2
'Nude Model' Reid Gustavson
5th (02:13,05)
1st
1st**
2nd Place (01:41,63)
3
"Mr. World Canada" Ron Wear
3rd (01:58,41)
6th
4th
3rd Place (02:55,07)
4
'Garbage Boy' Kevin Mathison
4th (02:02,02)
4th
3rd
Out Of Time
5
'Smiley' Chelsea Tailfeathers
10th (02:53,00)
3rd
Eliminated
6
Joel 'The Librarian' Sutherland
8th (02:25,34)
5th
Eliminated
7
'Playboy Bunny' Taryn Johnston
9th (02:38,96)
7th
Quit*
8
'Ant Lady' Kristi Rudmik
7th (02:23,11)
Eliminated
9
"Miss World Canada" Crystal Grierson
6th (02:17,80)
Eliminated
10
'Belly Buttonless Cheerleader' Brittany McLean
11th (03:11,23)
Eliminated
11
'Double Deep' Desirea Kolthof
12th (03:18,09)
Eliminated
12
'Mr. July' Matthew Hage
2nd (01:52,17)
Eliminated
13
'Nerdiest Geek Ever' Ron Langton
Eliminated
14
'Ladies Man' Bimal Lakhani
Eliminated
15
'Grass Man' Eric Lyons
Eliminated
16
'Miss Conception'**
Eliminated
17
'Geeky Cutie' Terri Jonah
Eliminated
18
Tony Norman
Eliminated
19
'Robot Geek' Lyndsey Lewis
Eliminated
20
Angel Simon
Eliminated
Reid Gustavson won the free pass to the Wipeout Zone.
During Pearl's sixteenth birthday (It's All About You, Boy), Birdo says it's Kelsi Nielsen.
This episode aired three days after the death of 114 year old oldest living man.
Contestants
Edit