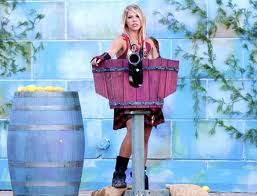 Ballista appeared as a female red defender from Splatalot as well as a playable character in the Super Smash Bros. Bowl (series). She is replaced by the other defenders Gildar and Skabb in a SpongeBob SquarePants episode, Season 4 (2005)'s Fear of a Krabby Patty.
All-Star Brawl (Beauties)
Edit
Ballista is a minor character in All-Star Brawl (Beauties) because she appeared in the pilot. She has the best or worst fighting, the best character from Splatalot in the Tier List and has the worst moves and attacks than any other character and the piano player Kelsi Nielsen of Pembroke, Ontario from High School Musical, High School Musical 2, High School Musical 3: Senior Year, Wipeout Canada and Wipeout Canada: The Game.
Ad blocker interference detected!
Wikia is a free-to-use site that makes money from advertising. We have a modified experience for viewers using ad blockers

Wikia is not accessible if you've made further modifications. Remove the custom ad blocker rule(s) and the page will load as expected.