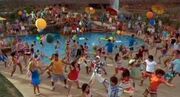 All for One is a High School Musical 2 song from Super Smash Bros. Bowl 1 that features some characters make a cameo during the start like Kelsi Nielsen of High School Musical and Allen Ford of Team Old Leaf make cameos during the song. To get this song in Super Smash Bros. Wipeout Sing It, you must use Birdo & Yoshi from Episode 7 twice in What Time is It. The singers feature all the cheerleaders and the couch potatoes, but this song is similar to We're All in This Together from the original High School Musical & Super Smash Bros. Cheerleaders vs Coach Potatoes. If you use all the characters besides High School Musical playable characters in Super Smash Bros. Cheerleaders vs Coach Potatoes, you unlock the Can I Have This Dance trophy for the box in the Trophy, Sticker and Song wall.
This is the third High School Musical song that Yoshi was spoken.
Ad blocker interference detected!
Wikia is a free-to-use site that makes money from advertising. We have a modified experience for viewers using ad blockers

Wikia is not accessible if you've made further modifications. Remove the custom ad blocker rule(s) and the page will load as expected.